Live at
NairaLearn
we have outlined everything you need to get started with your online business, grow and build a 6 to 7 figure earning online business model, often time, we have said that, if you are not building an online business, you are missing out a lot
What if in 2022, your business is not yet online, then you are running out of business, a meat seller is as today selling meat online and he is doing well, that is the leave we are now, Online and mobile
Yes everything has gone online and mobile, take the quest, leverage our portal, get your business online, build, grow, provide services and products, build your list, build engagement and start earning in real-time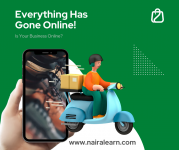 ​
We are here to help you, From setting up your business model to finding the right marketing tools. We will also provide some helpful tips on how to grow your business and make it successful.
So whether you're just starting or you're looking to take your business to the next level by leveraging the online world. The Nairalearn is all here for you Go here to
www.nairalearn.com
for everything you need to know!