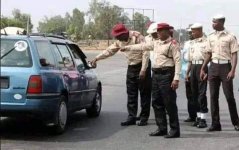 I was travelling from calabar to Aba but when I got to uyo, I was stopped by one FRSC member who accused me of not using my seatbelt.
I begged him to please let me go that it won't happen again but he refused.
He said he is going to seize my drivers licence and impound the car to their office.
But after much plea, he decided to collect #20,000 from me and which was the last money on me that would have paid for my fuel and other expenses
I gave him the money SADLY and went my way.
I was about entering Abia when a phone rang beside me,
and i was surprised to see Apple's Iphone 12 on my passenger seat.
I picked the call only to discover that the FRSC man forgot his phone in my car.
If you were to be in my shoes what will you do???
Be sincere because my head dey run riot here and both angels and demons are whispering things in my ear at the same time.