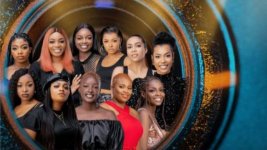 Big Brother has awarded the Shine Ya Eye housemates for the successful completion of their first tasks.
This came on Friday night, after the housemates presented a theatrical performance which depicted Nigeria's diverse cultures.
The reward for the completion of the task is a jacuzzi party at the Big Brother garden.
Biggie also revealed that the drinks for the party have been provided.
For the completion of their task, Biggie gave the housemates permission to open their envelopes which contain their Abeg naira.
Biggie also added that extra currencies have been made available for all the housemates.
"Head of House, there is a stool with an envelope containing some Abeg naira to be distributed for the whole house," Biggie said
The housemates cheered Big Brother for the rewards and got ready for the jacuzzi party.
The theatrical presentation by the housemates was a fusion of drama, songs, and dance, ranging from diverse cultures.
Different Indigenous cultures including Yoruba, Igbo, Hausa, Ijaw, and Efik, were displayed in the presentation to depict a particular ceremony from each tribe.
The Yoruba presentation depicted a child's naming ceremony while the Igbo displayed the coronation of a king.
For Efik, it was a marriage ceremony and the the Hausas were seen serenading their king.
A fishing contest was staged to represent the Ijaw/Urhobo culture, with a spice of the celebration of oil discovery in the land.