Naijafans
Thread Starter
Administrator
Staff member
Local time

Today 3:02 AM
NaijaCash
Seasoned actor, Chidi Mokeme has recounted what it took to deliver the role as "Scar" in the recently released six-part series, Shanty Town.
It is no news that the nollywood actor has garnered love and admiration of fans..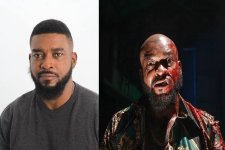 He said, "Some of the body modifications I did to enter into the character of Scar was to shave off my hair and go bald. I also did not take my bath for a few days before going on set so that when they say I should do something dirty, I can do it freely because I know I am not clean.
"Sometimes I don't brush my teeth and when I open my mouth to talk to people, they wonder what kind of a person I am.
"I don't smoke but I had to smoke about three packets per day to make my voice sound the way it did in the series."
Mokeme also revealed that he is finding it difficult to separate himself from the character Scar.
"The character and I have become one and it will take some time before we can let each other go,"
This role comes after a cool minute of absence after he was diagnosed of bell's palsy