Naijafans
Thread Starter
Administrator
Staff member
Local time

Today 3:18 PM
NaijaCash
​
In Nigeria's vibrant music industry, TG Omori and Clarence Peters are two renowned music video directors who have made significant contributions and achieved great success. Both directors have created visually stunning and impactful music videos that have captivated audiences and propelled Nigerian music to global recognition. While TG Omori and Clarence Peters have their unique styles and approaches, they share a common passion for storytelling and visual excellence.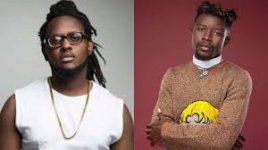 TG Omori, also known as Boy Director, has emerged as a prominent force in the Nigerian music video scene in recent years. He has directed numerous hit music videos for some of Nigeria's biggest artists, including Burna Boy, Olamide, Naira Marley, and Wizkid. Omori's videos are known for their vibrant colors, creative concepts, and energetic choreography. He has a knack for capturing the essence of the songs and translating them into visually captivating narratives that resonate with viewers. With his innovative style and attention to detail, TG Omori has established himself as a sought-after director in the industry.
On the other hand, Clarence Peters is a veteran director who has been instrumental in shaping the Nigerian music video landscape for over a decade. He comes from a lineage of creativity as the son of Sir Shina Peters and Clarion Chukwurah, two prominent figures in Nigeria's entertainment industry. Peters has directed music videos for numerous A-list artists, including Davido, Tiwa Savage, P-Square, and Phyno. His videos are often characterized by high production value, cinematic storytelling, and visually striking aesthetics. Peters has a keen eye for detail and is known for his ability to create visually captivating scenes that elevate the artists' vision.
While TG Omori and Clarence Peters both excel in their craft, they have slightly different styles that set them apart. Omori's videos often exude a youthful energy and embrace contemporary dance styles and street culture. His use of vibrant colors and attention to visual effects gives his videos a modern and edgy feel. On the other hand, Peters' videos tend to have a more polished and cinematic quality. He employs storytelling techniques and uses elaborate sets and costumes to create visually rich narratives that enhance the songs' message.
Both directors have achieved remarkable success and recognition for their work. They have been nominated and won numerous awards, including the Nigeria Music Video Awards (NMVA) and the Headies. Their contributions to the Nigerian music industry have played a significant role in elevating the quality of music videos and establishing Nigerian artists on the global stage.
In conclusion, TG Omori and Clarence Peters are two top music video directors in Nigeria who have made a substantial impact in the industry. Their distinct styles, creative vision, and ability to tell compelling stories through visuals have made them highly sought-after directors. As the Nigerian music industry continues to grow and evolve, both directors will undoubtedly play integral roles in shaping its future and cementing Nigeria's position as a force to be reckoned with in the global music scene.
Who is your favourite among the two, comment.