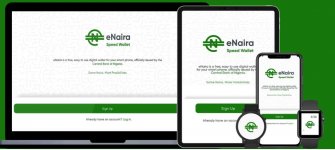 What is eNaira?
eNaira is a central bank digital currency (CBDC) issued by the Central Bank of Nigeria as a legal tender. It is the digital form of the Naira and will be used just like cash.
What is an eNaira wallet?
The eNaira wallet is a digital storage that holds the eNaira. It is held and managed on a distributed ledger.
The eNaira wallet is required to access, hold and use eNaira.
What makes eNaira different from the money in my bank account?
eNaira is the digital form of the cash and is a direct liability on the Central Bank of Nigeria while the customer deposits are direct liabilities on the financial institutions.
In a typical transaction, what is the difference between an online bank transaction and eNaira wallet?
There are intermediaries for the typical online bank transactions, whereas for eNaira transactions, there are no intermediaries.
What are the benefits of eNaira?
The benefits of the eNaira are:
Fast, cheap, reliable and available payment channel.
Support digital economy.
Improved economic activities.
Simplified and easy cross border payments and trade.
Inclusion of excluded people in the financial system.
Improved effectiveness of monetary policies.
Ease in tax remittance and collection to support the Country's growth.
Ease in targeted social interventions to support Nigerians.
How does a customer identify stores/shops and outlets that accept eNaira?
While efforts will be made to put signages and decals at designated merchant locations, customers can simply ask the merchants if they accept eNaira.
Can I pay with my eNaira and cash at the same time for a transaction?
Yes. The eNaira and Cash are all variants of the legal tender. Either or both can be used to carry out transactions as the situation demands.
Can I pay cash into any bank and instruct them to pay the funds into my ewallet?
No. In order to move cash into your eNaira wallet, kindly go to your bank.
What is the primary role of the CBN with respect to eNaira?
In line with Section 2 of the CBN Act 2007, the CBN is the issuing authority of all forms of Naira.
The Central bank will also be responsible for determining the technical, regulatory and operational standards for eNaira.
Will eNaira replace cash?
No, it will circulate alongside cash. The eNaira will complement cash as a less costly, more efficient, generally accepted, safe, and trusted means of payment.
Is eNaira safe?
eNaira is safe and secured with cryptographic techniques against counterfeiting, cloning, and other forms of attack.
As an eNaira holder, am I assured of data privacy?
Yes. Similar to the privacy enjoyed by current online banking patrons, the eNaira system has been designed to ensure data and user privacy. There are also operational policies and procedures in place to protect users' identity and privacy.
Who can access eNaira?
Similar to cash, any person or business can have access to eNaira as long as they have the requirements for onboarding.
What is the exchange rate between eNaira and physical naira?
The eNaira will have the same value as the physical naira. As such, it will be exchanged one to one.
Why should an individual download and fund the eNaira wallet?
99.9% service availability.
Low charges.
Nationwide acceptance.
No dispensing errors.
Advanced data privacy and security.
Why should a business/corporate operate the eNaira wallet?
Instant settlement.
99.9% service availability and reliability.
Low charges.
No dispensing errors.
No reconciliation issues.
How do I access eNaira?
Customers will be able to access eNaira via the eNaira wallet in app stores such as Google Play store and the Apple App store.
Users can also dial a USSD short code and follow the required steps to perform transactions.