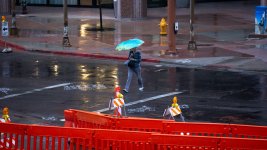 The National Weather Service in Phoenix issued three flash flood warnings on Friday evening that will remain in effect until early Saturday morning.
The first warning affects the southwest part of Maricopa County near Interstate 8 and will expire at 2 a.m. The second warning affects the Anthem area and remains in effect until 12:30 a.m., according to the weather service.
A third warning was issued for about 78,360 residents from Citrus Park, Avondale and Litchfield Park and will last until 1 a.m., the weather service said.
A significant weather advisory was issued earlier in the day for Maricopa and Gila counties due to storms with wind gusts up to 50 mph. The advisory expired at 6:45 p.m.
Dust advisories were also issued in Pinal County but have since expired, according to the weather service in Tucson.
An area flood warning of the San Pedro River from St. David to Dudleyville remains in effect until 6 a.m. Saturday due to excess amounts of rain. Flooding of urban areas and roads are possible, according to the weather service. Officials advised drivers to turn around if encountering large pools on roads.
Residents of Black Canyon City have been issued a flash flood warning that is valid until 10:30 p.m., according to the National Weather Service in Flagstaff.
Yavapai County saw multiple severe thunderstorm warnings and a flash flood warning Friday afternoon. Flooding was reported along Highway 87 between Payson and Pine about 6 p.m., but all warnings have expired, according to the weather service.
Friday was forecast to experience storms and rainfall in the Valley similar to
Thursday
, which saw flood impacts, heavy rain and storms in isolated areas in west and east Phoenix.
Friday morning started with 0.10 to 0.25 inches of rain in the northern and southeast part of Valley and moved into scattered storms through the Phoenix metro area by the afternoon, according to the National Weather Service in Phoenix.
The peak of storms was forecast between 3-9 p.m. Friday and possibly overnight into early Saturday morning, officials said.