Naijafans
Thread Starter
Administrator
Staff member
Local time

Today 6:22 PM
NaijaCash
A Ghanaian-British guy named Danny Manu created earbuds with built-in automatic language translation. The earbuds can live translate into over 40 languages.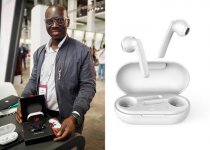 Danny Manu is a British-Ghanaian engineer and tech entrepreneur who built the world's first auto-translator earbuds. Danny studied at Oxford Brookes University and describes his mission in life as striving to improve lives. He was recently recognised by Google for his contributions to science, arts and culture.
The product called Click is marketed as "the world's first completely wireless headphones" and offers live voice translation in 40 different languages.
The wireless Bluetooth headset works by pairing it to a smartphone. After that, the earphones will automatically identify the language being spoken and will speak a sentence or two of translation. Unlike comparable inventions, Click does not require the internet.
The device, which has gained popularity since it was created under the Mymanu brand, has drawn users from Europe, the United States, and Asia. #brand #translation #language
Last edited: