Naijafans
Thread Starter
Administrator
Staff member
Local time

Today 12:36 PM
NaijaCash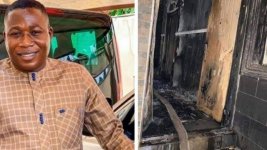 One of the close aides of the Yoruba freedom fighter, Chief Sunday Adeyemo aka Sunday Igboho, Friday, narrated the scene at Igboho's Soka, Ibadan residence during the raid of the operatives of the Department of State Security, DSS, and army, describing it as a Commando operation.
He also disclosed how Sunday Igboho, sensing the mission of his assailants was to kill him, entered a room and disappeared.
While speaking with
Vanguard
, Igboho's aide, who did not want his name in print, said the operation was like a movie scene in the early hours of Thursday, as operatives of the DSS and army descended on the building with a mission not known to the occupants.
According to him, the unexpected visitors, who dressed in army camouflage and military attire, entered into the compound to met their hosts unprepared.
He said the assailants came in five army branded Hilux vehicles and forcefully gained entry by killing one of the bodyguards of Igboho, named Adogan.
His words: "When they arrived at about 1:35 am on Thursday, they scaled the fence and opened fire. We just heard sporadic gunshots all around the main house during which they killed one of the bodyguards of Sunday Igboho named Adogan.