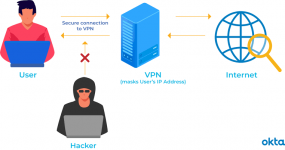 VPN is often used to bypass local Internet restrictions. It works by routing Internet traffic through a server that sits between your devices, phones, computers etc, and the Internet.
Ultimately, it makes you appear to be connecting to the Internet from a location different from your geographical location. With many premium VPN you can actually chose your virtual location.
The warning however, is that not all VPN providers have good intentions. Since the server that sits between you and the Internet is receiving your information and routing it, the operators of the server may be able to see, store and use your information. A VPN is like asking someone to go the ATM on your behalf. You not only need to hand over your card, you also need to hand over your pin.
So, what do I recommend? Turn on the VPN only when you need it. Keep it off when you don't. Turn it off specifically when you are doing anything sensitive on your phone including sending emails, shopping with your financial details or using your bank apps.
Finally, use a legit VPN provider. Be careful with the free ones. Soon, many people abroad will be settling up free VPN for Nigerians. Please, let's look carefully before we leap. Cases of 419 and financial fraud may spike with this...