Thread Starter
Active member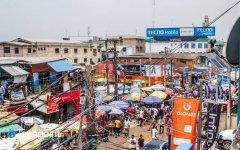 Lagos State Government has reiterated its resolve to relocate the popular Computer Village from Ikeja to Agbado Oke-Odo Local Council Development Area, LCDA, saying the relocation process is very much intact and expected to be completed in the next two years.
It also said that the process for the relocation of Mile-12 Market and Oko-Baba Sawmill to Imota is being delayed following a review of initial building plans due to current needs to ensure a more befitting environment.
The State Commissioner for Physical Planning and Urban Development, Dr. Idris Salako stated this during the Ministerial press briefing to mark the second anniversary of Governor Babajide Sanwo-Olu's administration, held at Alausa, Ikeja, Lagos.
According to Salako: "The relocation of Computer Village, Ikeja, to Ultra-Modern ICT Park, Katangowa in Agbado Oke-Odo LCDA, is on course having delivered the vacant site to the developer for construction of ICT park. It has to move from Ikeja, which is located in residential area to a more spacious and conducive location in Agbado-Oke-Odo."
The project, according to the commissioner is progressing with the following ongoing activities: construction of three connecting roads to the proposed ICT park, 250 resettlement stalls, 78 toilets and showers, and two blocks of warehouses.
"As soon as all arrangements are completed, we will not hesitate to commence the relocation process which is expected to commence soon.