Naijafans
Thread Starter
Administrator
Staff member
Local time

Today 1:23 AM
NaijaCash
LUKULUKU BANTASHI
For those that were old enough between the mid 80s and the 90s, Lukuluku Bantashi was a well-known comedian in the Yoruba movie industry who flourished for a very long time through his own unique cast and brand identity that no one has beaten till today. Lukuluku Bantashi Awo-Erin, as he was popularly called, was one among the many notable actors in the Yoruba movie industry that their stars have sunk prematurely into the history.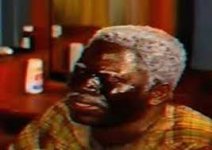 Not much is known about Lukuluku's personal life, but his comedy brand was known far and wide across the western part of the country.
Lukuluku Bantashi was able to build his own stage identity from his own template, and his comedy brand reigned for decades while his comical style continues to be unmatched till this moment.
Lukuluku, during his time, ruled the comic scenes of the industry while the likes of Epo-Tin-Tin, Baba Suwe, Ajirebi, Godogbo, James Dẹ̀pẹ́, Dẹ̀jo Tunfulu, Larondo and others queued behind him.
Lukuluku was the most beautiful bride in the movie industry that all the movie producers sought his graceful appearance in their movies, there was no known popular movie at that time that he did not feature, and movie viewers always looked for his head in the posters or on the video cassette jackets. He was indeed a hot selling point that none of the movie producers at that time would want to jettison his appearance.
Lukuluku Bantashi was popular for his unique comical crying-style which could crack one's ribs to pieces. He always played 'an old fool' whilst his face was always painted in charcoal black. Lukuluku would always wear oversize unmatched cloth which could throw you out of balance at a mere sight of him.
Lukuluku Bantashi presented his artistic talents in many movies like Yemi My Lover, Ti Oluwa Nílẹ̀, Imulẹ̀ Ìfẹ́, Legal Wife, Ami Orun, Itunu and many other movies before his untimely death in 1995.
The entire South west of Nigeria was shaken to its foundation on the day Lukuluku's death was announced. Sun refused to shine and moon hid its glow.
All the radio and television stations rendered heart touching tributes to him. The entire Yoruba actor guild (ANTP) at that time was stirred up and all its members were thrown into absolute bereavement. The untimely death of Lukuluku Bantashi was seen by many among the co-artists as a irreplaceable lost, and the tribute upon tribute was rendered to honor him.
Alhaji Gboyega Lawal, a popular Ibàdàn ace broadcaster, tried to douse and bring people's mourning under control, he planned to prank Lukuluku's resurrection from death in one of his live program on Galaxy Television Ibàdàn on a weekend that followed.
He costumed Yinka Ayefele to look almost exactly like Lukuluku and brought him on his program known as ON ROSY. Yinka Ayefele truly delivered as a replica of Lukuluku that beautiful Saturday afternoon on live broadcast, and that provoked people anxiety.
Hundreds of thousands of over-excited people besieged the TV station and requested to see the resurrected Lukuluku face to face. Things went out of control and Alhaji Gboyega Lawal and Yinka Ayefele were nearly mobbed by the angry fans of Lukuluku Bantashi.
Lukuluku's death is twenty six years now and his replacement still cannot be identified. Like I had said earlier, not much is known about his personal life and family. Rumour had it that he left no child after him to blow the horn.
The vacuum that Lukuluku left behind is still there till the moment as many of us that knew him are still missing him so much.
May his soul continue to rest in peace
Last edited: