Naijablog
Thread Starter
Well-known member
Local time

Today 4:22 PM
NaijaCash
His Eminence the Sultan of Sokoto, Muhammadu Sa'ad Abubakar, has declared Monday, May 2, as the first day of Shawwal. For now, the National Moon Sighting Committee (NMSC) said reports on the sighting of the new moon from seven states are negative.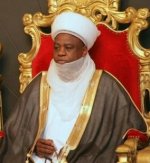 Ramadan: NSCIA receives reports on sighting of the new moon as Sultan announces date for Shawwal
So far reports on the sighting of the new moon have been received from Misau, Sokoto, Kaduna, Lagos, Ilorin, Abuja, Abeokuta, Ogun, and others
What is Shawwal?
Shawwal is the tenth month of the lunar-based Islamic calendar. Shawwāl stems from the verb shāla which means to 'lift or carry', generally to take or move things from one place to another, so named because a female camel normally would be carrying a fetus at this time of year.