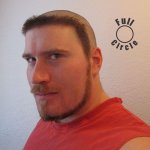 A bizarre new men's facial hair craze has been popping up around the world. The 'circle beard' trend is certainly creative, but critics are all riled up by the 'toilet seat' look
Others vowed to use anyone sporting one as "target practice" to eradicate the style from the planet.
Another said: "I cannot believe this is now a thing", while more ranked it among their top fashion and cultural hatreds along with skinny jeans and vaping in public.
Others said it made wearers look like circumcised penises, while another sneered: "Welcome to the phenomenon of c**k circles".
The cut involves first growing a beard to meet the hairline and then shaving off all the hair except a circle that stretches from head to chin.
A "monkey tail" beard trend emerged during lockdown, but it didn't attract anywhere near as much hatred as the circle style.
Mullets worn by 80s stars including Pat Sharp and footballer Chris Waddle also made a comeback during the pandemic with the planet unable to get to salons.
Crocs, elasticated trousers and tracksuits are also big again after the world's population gave up on grooming and piled on pounds in lockdown.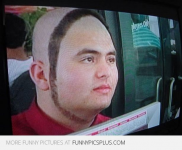 Studies showed male grooming went into freefall across the world during the pandemic.
Jeremy Clarkson, 61, admitted last spring: "I haven't had a shave for a week. I'm wearing a shirt that makes me look like Winnie the Pooh. I'm living on a diet of what's growing in my vegetable garden, which at this time of year is nothing and McVitie's dark chocolate biscuits."
Justin Bieber, 27, and The Weeknd, 31, helped send sales of Crocs soaring after daring to wear them outdoors.
138235572536
Harry Styles, 27, sported a retro lockdown 'tache, with isolation beards also grown by Jude Law, 48, Jim Carrey, 59, and Will Smith, 52.
Danish company Copenhagen Grooming reckoned a third of men grew a beard in lockdown.
And, Entire world, which specializes in loungewear, saw a 662% increase in year-on-year sales in 2020.
A bizarre new men's facial hair craze has been popping up around the world. The 'circle beard' trend is certainly creative, but critics are all riled up by the 'toilet seat' look

www.dailystar.co.uk