Naijablog
Thread Starter
Well-known member
Local time

Today 9:27 PM
NaijaCash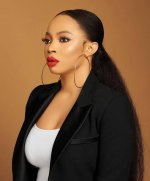 Nigerian media personality
Toke Makinwa
has slammed critics and people who constantly question her on when she's getting married again.
In a video making the rounds on social media, the media personality said it's not important but would like to correct some impression people have about her.
According to Toke Makinwa, people close to her or who have been a part of life can attest that she's shameless, and there's nothing anyone says about her that she will feel hurt.
Toke Makinwa, whose marriage crashed a few years ago, said people judging her crashed marriage or anything about her lifestyle is no longer a new thing.
Toke added that it's disgusting when people constantly ask her including other women when they are getting married again.
In her words: I thought I should have a quick chat with you guys, what am about to tell you guys doesn't really matter much. Those who know me and has been part of my life will know am very shameless. I have sold my shame and when you are dealing with someone that is shameless, there little or nothing that you can say that will get to them cos at the end of the day i own my shit. There absolutely nothing you can say about me that is new I think its actually disgusting when people constantly ask me and other women, when are you getting married.
Nigerian media personality Toke Makinwa has slammed critics and people who constantly question her on when she's getting married again. In a video making
www.kemifilani.ng