Naijababe
Thread Starter
Member
Local time

Today 12:33 PM
NaijaCash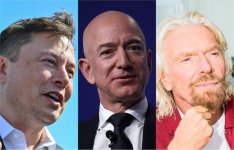 Jeff Bezos, Elon Musk and Richard Branson have a combined net worth of $400 billion, roughly the size of the GDP of the entire nation of Ireland. And all three men have decided to put vast sums of their wealth into chasing their space travel dreams, creating a modern space race in which ultra-rich men — rather than countries — shoot for the stars.
The space companies founded by the three billionaires all have slightly different goals and varying visions of how to achieve them. But never has the Branson-Musk-Bezos dynamic appeared more competitive than when Branson announced earlier this month that he would fire himself into outer space on a suborbital joy ride just days before Bezos will clamber into his own rocket.
Branson's flight took off without a hitch on Sunday, while Bezos plans to take off July 20.
But which billionaire is truly winning this so-called space race? It all depends on how you look at it.