freaky
Thread Starter
Member
Local time

Today 9:09 PM
NaijaCash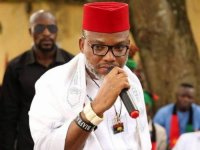 Ifeanyi Ejiofor, the lawyer representing the leader of the Indigenous People of Biafra (IPOB), Nnamdi Kanu, has assured he would be released soon.



Ejiofor stated there was no strong allegations to convict him and called for patience and prayers.

"We're in high spirit that Mazi Nnamdi Kanu will soon come out of detention sooner than expected, and better too. It's one thing for allegations to be made, it's another thing to establish it. But I don't think there's anything strong enough to convict him," he said.

Ejiofor also confirmed there was great improvement in Kanu's health condition, despite the inhuman treatment he was subjected to while in Kenya.

"There's no cause for worry. His health is improving. Only that he has not been allowed access to his family, particularly his wife and children, which I see as another level of mental torture.

"But we're doing all we can to ensure he's transferred to appropriate custodian pending when his trial commences. We're also making efforts to get medical experts to ensure his health gets stable," he added.