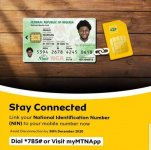 To link your NIN number to your MTN number, Just dial
*785#
which will prompt you to input your 11 digit NIN number.
Input your 11 digits NIN number
After which you will receive an sms that says ' Thank you for linking your NIN 1234567890 Sms confirmation will be sent to you once your NIN has been verified and linked with your line.'
Just wait for a few seconds if your NIN linking is verified, a second sms will follow that says : Dear customers your SIM registration detailed have been updated and your NIN linked to your line 080 ******* Thank you.
If you received the sms above, that means your NIN number has been linked to your mtn line successfully.
But if you haven't do capturing for your NIN number, you may need to visit NIMC office nearest to you to validate your capturing.
Hope this tutorial helps,
Comment and ask any questions on NIN number and get answers.